The Trip
On Friday 14/03/2013, I plan to do this trip to CeBIT in Hannover. The total distance is 476km. So with a realistic rang of about 300km, I won't make it in one go.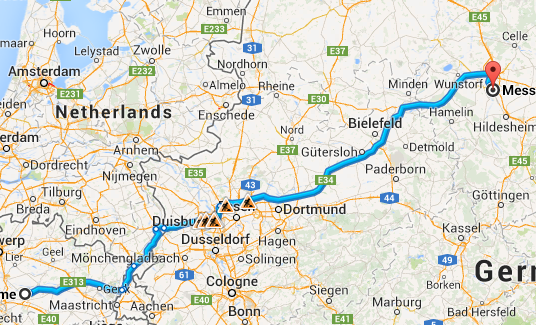 Option 1 : The Tesla Supercharger network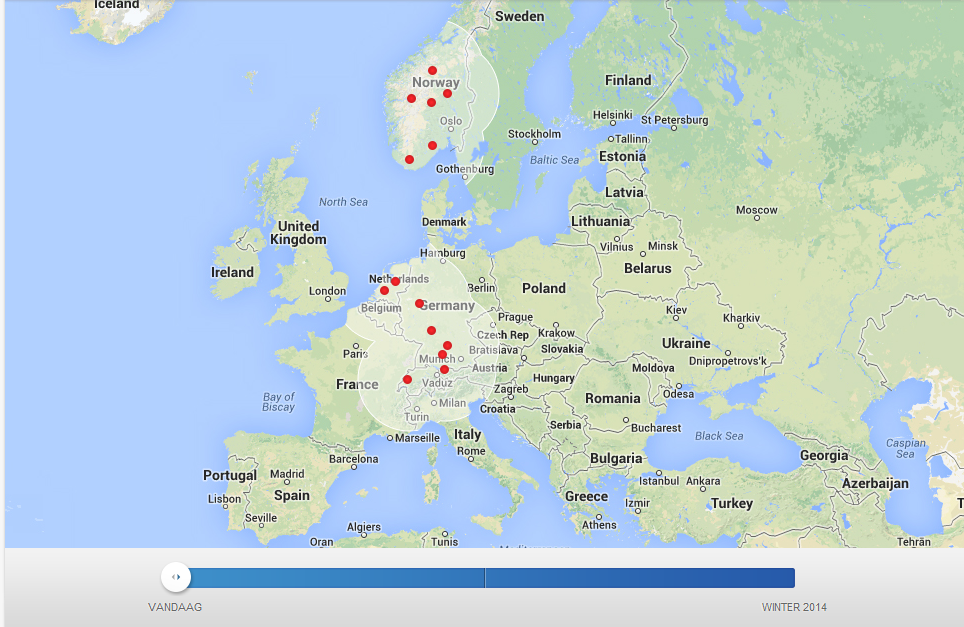 As you can see the Tesla Supercharger network doesn't allow me yet to get back and forth to Hannover. I mailed Tesla to find out if I could expect some superchargers to pop-up in the coming week on my route to Hannover, but they had to dissapoint me. For now at least, because Tesla's working very hard to cover the whole of Europe by the end of this year: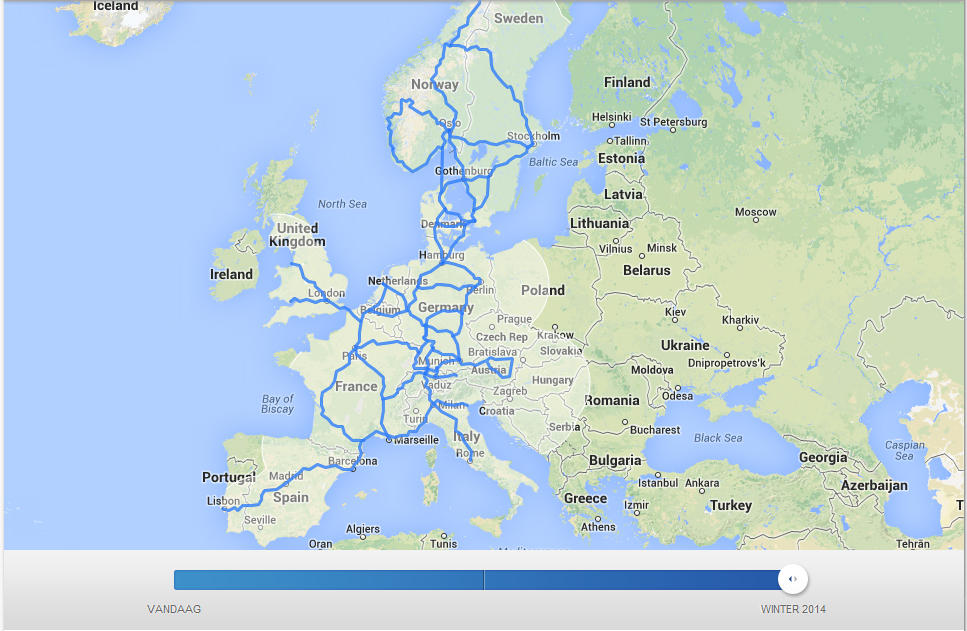 Option 2 : Tesla superchargers and destination charging
There are 2 routes that have potential.
Route 1 using Tesla Supercharger Zevenaar (516 km)
Route of 2 stages with one stop of about an hour in Zevenaar.
Stage 1 has a total of 217km but stage 2 is 343km. Which means that I would need to fill to 100% in Zevenaar and drive carefully on German autobahn to even get in Hannover
Route 2 using supercharger in Wilnsdorf (607 km)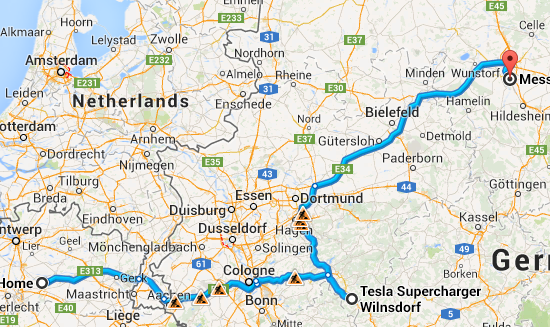 This route is a bit longer, but the distance in the 2 stages is better distributed.
Stage 1 Home – Wilsndorf is 283 km and Stage 2 Wilnsdorf – Hannover Messe is 324 km
Both routes seem possible, but then I have to be sure I can do destination charging
Charging in Hannover

And yes, we might be lucky. There's a charging station in Hannover on the Messe grounds.
One problem, it unlocks with an RFID that you should request for on the "enercity" website. Another problem is that Hannover Messe doesn't allow to reserve the charge station. First come is first served.
And all other charging stations in Hanover are property of the same company enercity.
Alternative 1 : Ikea
Ikea has been a guardian angel for many EV drivers in the past. And there is an Ikea on the expo grounds in Hannover. Unfortunatly it does not have charging stations for EV's.
Alternative 2 : Ladenetz
Ladenetz is a service provider in Germany with whom Bluecorner has a roaming contract. All users of Ladenetz can charge on the Bluecorner network, and vice versa.
However Ladenetz has no offerings in Hannover, it does have some stations in Kassel. Which is on the way to Hannover. There are 2 charging stations near the highway which could help us to get back and forth. And they have 3 phase 32A power.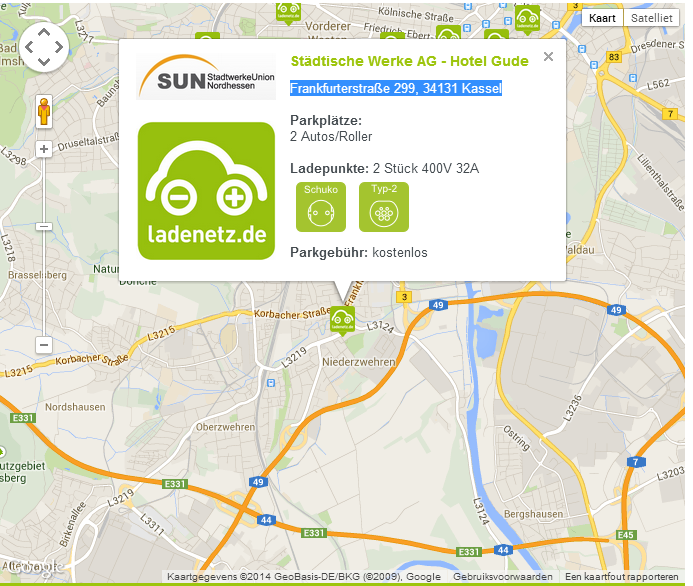 So this is how the route would like.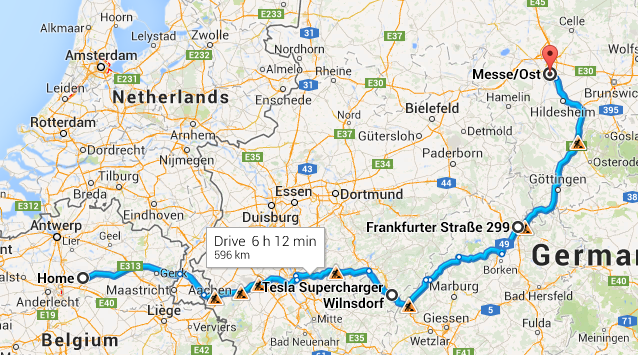 Stage 1 : Home – Wilnsdorf (283 km / 2 h 42 min)
Charging : Wilnsdorf (1 hour) to get full again
Stage 2 : Wilnsdorf – Kassel (151 km / 1 h 59 min)
Charging : Kassel (2 hours) to get full again and be able to drive back and forth to Hannover.
Stage 3 : Kassel – Hannover (163 km / 1 h 31 min)
Maybe we can charge at our destination in Hannover so we can skip Kassel in our way back.
Total time : 9h 12 min to get there and maybe 7h12 min to get back.
Exhibition starts every day at 9:00, so best is leave at 23:00 !! 🙂 Or de we take a convenation car with combustion engine. Up to you https://twitter.com/stakke